Simplest operation at the light switch
One click turns on the LED light. Two more clicks switch on the heating. Other modes can be called up via further clicks. With another click, you simply switch ELIAH off. The intuitive operation is ideal for young and old.

Precise desired temperature
Our ELIAH heated ceiling lamp puts an end to inaccurate bimetal thermostats and meaningless "min/max" indications. ELIAH remembers up to eight adjustable temperatures to the exact degree! So you heat rooms effectively to desired temperatures.
Digital temperature detection, fan speed monitoring, multiple fuse protection for heating circuits, timer-controlled shutdown, free supply and exhaust air, protection against contact due to ceiling mounting.

Pleasant and bright light
Natural colors, good contrasts, high-quality LEDs with a color rendering index Ra > 90. Up to eight brightnesses from 1% to 100% can be conveniently selected via light switch. Thanks to "hybrid dimming", the electronics remain noise-free.

The high quality of all components ensures longevity. The LEDs are actively monitored and protected against overheating. ELIAH achieves a service life of 50,000 operating hours. ELIAH fulfills what you expect from Made in Germany expect

Temperature monitor function
If necessary, ELIAH monitors the temperature in the room and heats before water pipes freeze and plants die in the conservatory or garden shed. Vacation homes are also effectively prevented from cooling down.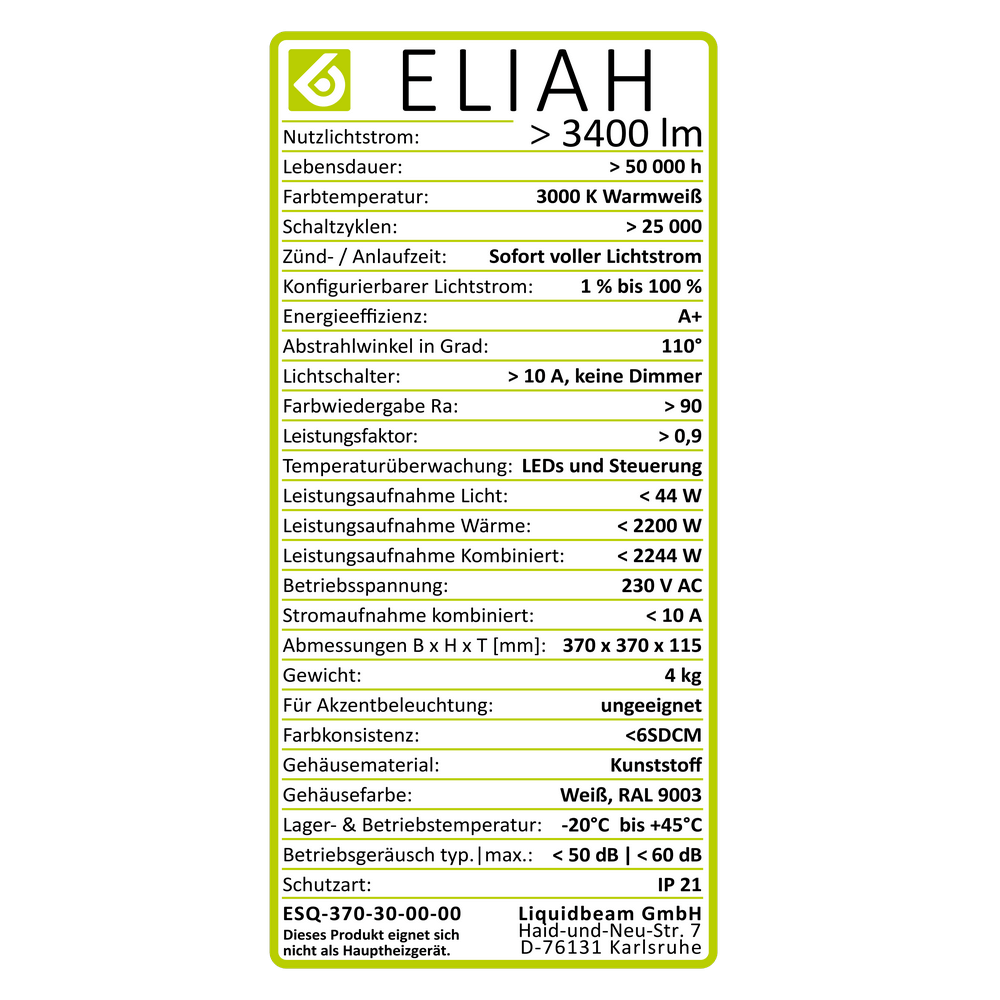 Economical LEDs, monitoring of the room temperature, automatic shutdown of the heating after an adjustable time: More comfort and savings potential through demand-based heating in all places with low usage time. Conscious use of energy is important to us. Therefore, with ELIAH you can bring your bathroom to a comfortable temperature only when you need it there.
Like other electric heaters, ELIAH also consumes energy. However, especially as demand heaters or for the transitional period, direct electric heaters are very practical and help reduce overall energy consumption. This works by bringing rooms to desired temperature only during use. Ideal for bathrooms, conservatories, basements and adjoining rooms. For reliable mold prevention, temperatures between 16°C and 18°C are already sufficient. With a temperature difference of 5° to the comfortable temperature and a daily usage time of 60 minutes, more than 25 % of energy can be saved.
Instant heat technology: Already 10 seconds after switching on ELIAH heats your bathroom. Due to the mounting on the ceiling, the accumulation of warm air under the ceiling is significantly reduced compared to other heating solutions. The fan transports the warm air directly to your feet, creating a warm comfort zone starting from the center of the room just a few minutes after switching on. 
Digital temperature measurement and integrated timer for shutdown ensure that you do not consume unnecessary energy. ELIAH's LEDs have a high efficiency rating of A+.
Energy consumption in comparison
Some comparative examples of heating according to demand and a cost calculation based on current energy prices.
10 minutes heating with ELIAH =
max. 0.333 kWh
approx. 11 cents
The comparison is based on an electricity price of 33 cents/kWh.
10 minutes warm shower =
150 liters hot water
approx. 78 cents
The comparison is based on a hot water price of 5.20 € / 1000 liters.
10 minutes heating with ELIAH =
1754 m
48,6 s
Freeway ride in electric car
The comparison is based on the real values of a German electric car with market launch 09/2020. Real consumption according to the board computer at the guideline speed of 130 km/h = 19 kWh/100 km. The maximum heating power of ELIAH is 2 kW. During the heating process, the power is modulated between 10% and 100%.

ELIAH is a quality product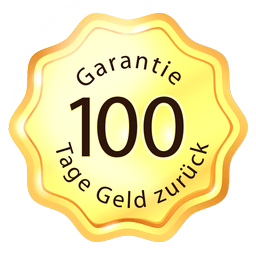 We guarantee satisfaction and therefore receive You get your money backif you are not satisfied. Up to 100 days!
The best manufacturer's warranty is the one you don't have to claim on. That's why we explain here how we at ELIAH focus on real quality:
The housing is made of high quality polycarbonate, the diffuser is made of high quality acrylic glass. Both materials are long-term lightfast and colorfast.
The mounting mechanism relies on strong neodymium magnets, so the lighter mounting tray can be conveniently mounted first before the subsequently connected device snaps in magnetically. This way, ELIAH closes cleanly and flush to the ceiling without any disturbing screws being visible. There is no risk of damaging ELIAH during maintenance or disassembly. In addition, there is a fall protection device.
The electronics of ELIAH were specially developed by us and are assembled in Germany at a certified manufacturer.
Final production and quality control is carried out in the Swabian Alb. Each device is 100 % checked.
The implemented temperature management relies on efficient passive cooling. For this purpose, the LED carrier is thermally connected directly to the ambient air at six points, with 

total 

over 163 square centimeters of surface area. The temperature of the LEDs is also monitored and if there is a risk of overheating, they are actively cooled and dimmed if necessary. So you can be completely unconcerned even in demanding ambient temperatures.
The LED flat assembly and thus the illuminants are replaceable by us.
The LEDs have a high color rendering index Ra >90 (typ.92), so colors appear natural and rich in contrast even in LED light. The control of the LEDs by "hybrid dimming" ensures that ELIAH always remains absolutely free of annoying whistling noises even when the light of the step dimmer is dimmed.
All electronic components used (LEDs, microprocessor, capacitors and other ICs) are sourced from well-known brand manufacturers.
The built-in power supply meets high industrial requirements for noise immunity and scores with a particularly long service life. (MTBF = 959 100 hours at 25°C according to MIL-HDBK-217).
The screws used have a high corrosion resistance. (720 hours to Fe corrosion; corrosion resistance test in salt spray test according to DIN EN ISO 9227).
The aluminum electrolytic capacitors for voltage stabilization are brand-name products with a long service life. In addition, they are operated below the rated voltage, which further extends the service life. (Specified: 5000 h at 105°C, this would correspond to a service life of at least 50,000 hours if the capacitors were operated permanently at 70°C).
The blower has a low-noise and durable sleeve bearing and is powered by a digital motor. In the event of a failure, the motor and heating unit can be easily replaced by ELIAH without having to open the moisture-proof electronics housing.
The integrated air deflection improves airflow and reduces noise.
The heating elements are switched on only when the required air flow is provided by the fan, thus preventing high temperature of the heating elements and minimizing odor formation in very dusty air.
In addition to the excellent safety, which is already achieved by the stationary mounting on the ceiling, we have implemented an extended safety concept. Among other things, we permanently monitor the speed of the fan and switch the heating elements only as long as the required speed is reached. The implemented solid state relay relies on powerful and generously dimensioned TRIACs. The powerful microprocessor permanently monitors the correct program sequence.
The electronics housing is completely sealed against dust and moisture and equipped with a pressure compensation membrane.
After filling out and sending in the ELIAH warranty card you will receive from us 5 years manufacturer warranty from date of invoice.