AMIRA – HYGIENIC. SECURE. TO GRAB. TO PRESS.
AMIRA permitted the comfortable operation of door handles, switches and buttons, or even garage ropes, without them direct contact. The intended contact points take over this task and disappear after use in the device, so that unintentional or accidental contact is excluded. Thus can AMIRA Can be held in the hand and stowed away in any jacket, trouser or handbag.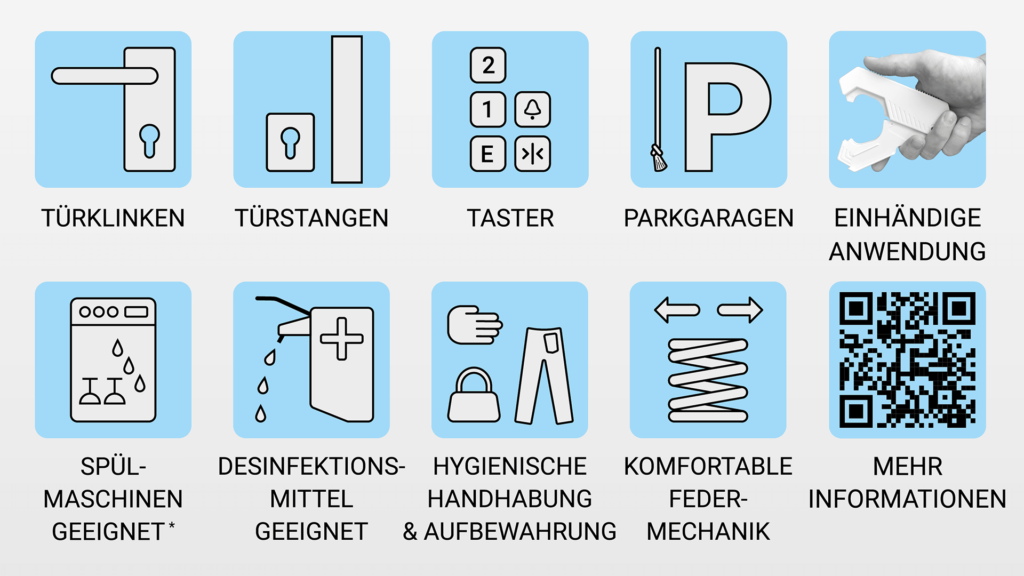 Advantages:
Avoidance of direct contact with contaminated or dirty surfaces in everyday life
Saving of disinfectants and soap and thus their effects on the skin
Simple, quick and one-handed operation
Automatic alignment when gripping and high tolerance against tilting
Immediate and complete protection against accidental contact after closing
Light, flat, robust and easy to store

Technical specifications:
Product name: HYA
Materials: plastic / ABS & stainless steel
Weight:< 55 g
Dimensions HxWxD[mm] : 136 x 45 x 14
Color combination: light gray / blue
Age recommendation: 6+
Integrated eyelet for an optional wrist strap
Bidirectional spring mechanism
Manufacturer: Liquidbeam GmbH
UV light demo
Shipping costs within Germany are already included. Shipping costs and other delivery countries can be found under this link .