ELIAH - lighting and heating
Lighting and warmth in every room
Comfortable warmth and light for every mood in the bathroom, office or hobby room. ELIAH is operated by the existing light switch, six individual light and heating degrees are conveniently available.
High-performance heating without modification
ELIAH is mounted on the ceiling, thus equipping rooms with lightning speed with a heating function. ELIAH heats up much faster than water radiators, saves space and is very convenient to use.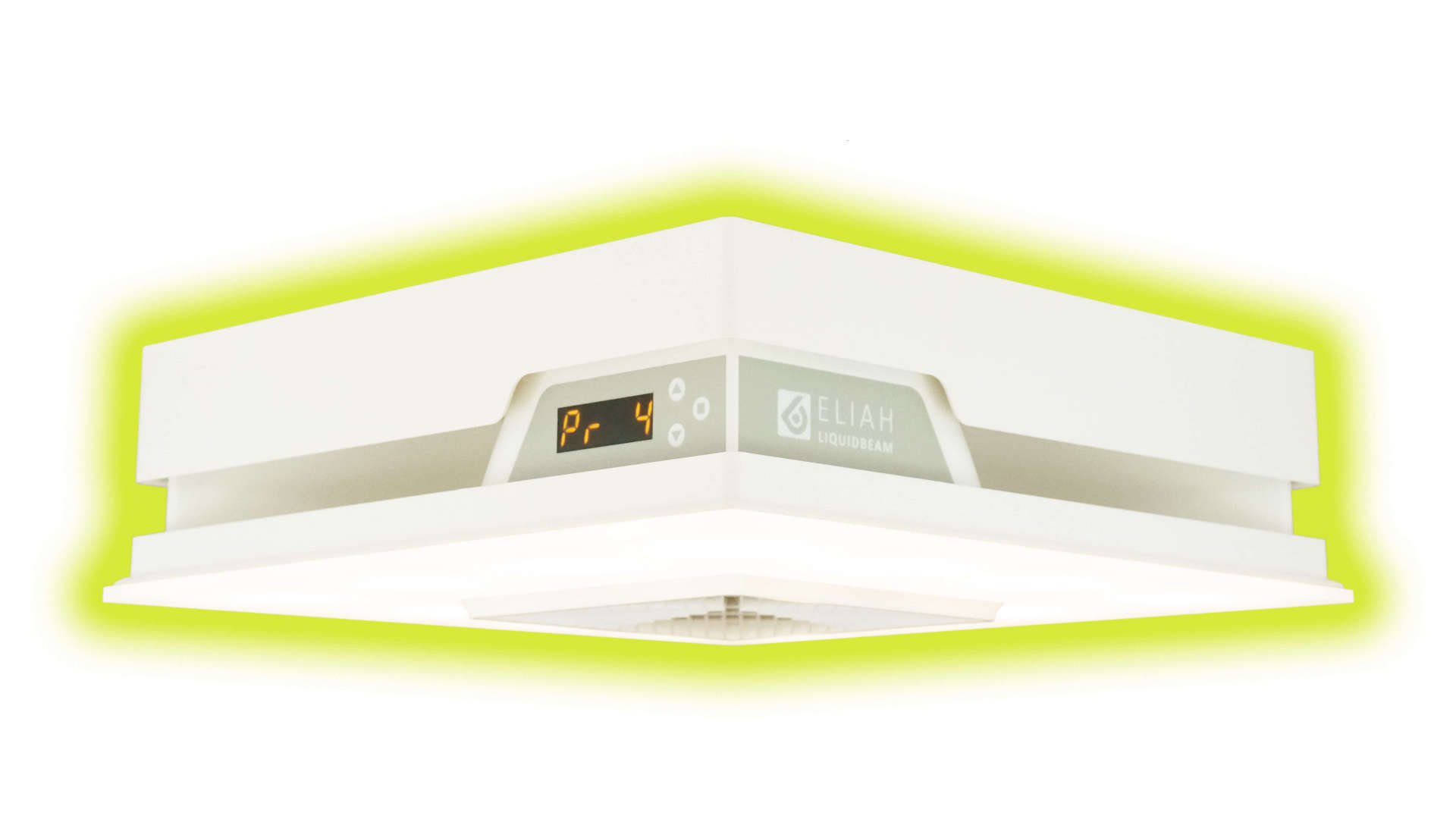 Save energy with ELIAH
ELIAH is the smart and energy saving solution, if in addition to the lighting, a heating is needed. Ideal for rooms with short usage and a limited requirement for heating.
Bathrooms, children's rooms, kitchens, cellar rooms, hobby rooms, top floors, guest rooms, guest toilets, rehearsal rooms, garages, garden sheds, conservatories, apartments, clubhouses and more …


Easiest operation with existing light switches
A click turns on the LED light. Two more clicks turn on the heating. Other modes are accessible via additional clicks. With another single click, your can easily turn off ELIAH. Simple and intuitive.

Select your desired temperature
ELIAH eliminates inaccurate bimetallic thermostats or pointless min/max labels by storing up to six individual temperatures, accurate to the degree!


Comprehensive safety
ELIAH detects temperatures in a fail-safe manner, it has an automatic off switch, electric circuits are protected redundantly. The installation on the ceiling prevents the supply and exhaust air from being obstructed.


Bright light with pleasant colour
ELIAH features natural colours and good contrasts thanks to high-quality LEDs. You can set and select up to six brightness settings with the light switch.


High quality and long life
The generous dimensions of the high quality components guarantee a long service life. The LEDs have a durability of at least 50,000 operating hours.


Temperature guard
Winter is coming! ELIAH constantly monitors and regulates the temperature in a room. No more frozen water pipes or frozen plants in the conservatory, the garden hut or any other room.


Energy-saving and realiable
ELIAH uses economical LEDs, monitors the room temperature precisely and switches off the heating automatically. Therefore, ELIAH is remarkably safe and environmentally friendly.

More space and higher safety
The elimination of mobile heating solutions leaves more space in rooms. Trip hazards such as extension cords or multi-outlet power sockets are gone, too.


Timeless design
ELIAH offers great functionality combined with a timeless design.  ELIAH inconspicuously fits in almost every living- or working room.
Specifications and technical data at a glance
ELIAH is available from October 2019. In order to stay up to date, we recommend you to subscribe to our newsletter.
ELIAH will cost regularly 569 €, not more than a good LED ceiling light and a high-quality digital fan heater – but ELIAH ist significantly easier use, with more security and comfort. You will get a high quality product, made in Germany with 5 years warranty.
ELIAH uses LEDs for lighting and thus a modern and energy-saving technology with up to 44 watts maximum LED light output and over 3400 lumens. We rely on high-quality brand LEDs from a high-quality manufacturer with a color temperature of 3000 ° Kelvin and a typical color rendering index of over 90.
The housing color RAL 9003 is used, so that the light-heat combination will fit discreetly into most applications.
The diffuser will be made of satined polycarbonate.
ELIAH is developed in Germany by three engineers. High quality and safety are very important to us.
ELIAH will be processed very solid, conformity to CE is a matter of course for us.
Where there is a connection for a ceiling light, ELIAH can be easily retrofitted. ELIAH fits all 230 V circuits, which are protected with 4 A, 6 A, 10 A or more. At 4 amps or 6 amps, the maximum heat output is correspondingly reduced.
appliance combination with lighting and heating for rooms up to 30 m²
modern casing in matte white (RAL 9003)
measurements: approx. 370 x 370 x 115 (L x W x H in mm)
approx. 2000 watts max. heating capacity
Fits circuit breakers with less than 4 Amps, 6 Amps or 10 Amps (230 V AC)
approx. 44 watts light output up to 3400 lumens, high-qualityLEDs
colour temperature 3000° Kelvin, warm white, colour rendering index >90
regulated with a microcontroller
eight individual configurations adjustable on the device